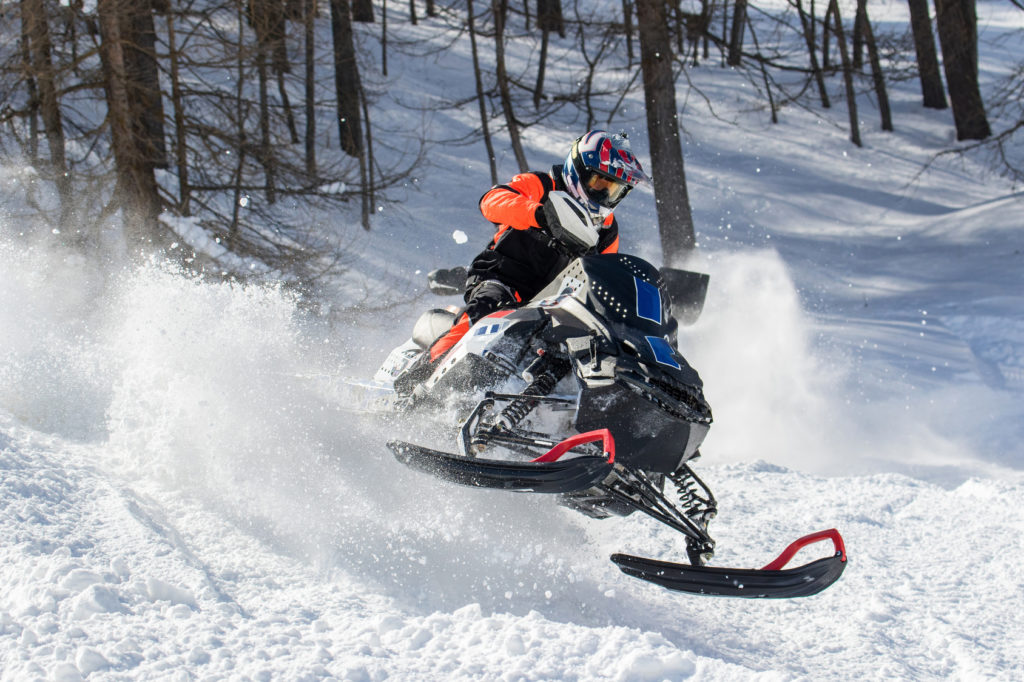 The Ultimate Snowmobile Maintenance Checklist
When the freezing cold comes around, you get the urge to dust off the winter toys. You know there's nothing more exhilarating than cruising around on your snowmobile.   However, you cannot expect your snowmobile to run without a hitch if it's been sitting in your garage for more than half the year.   Additionally, even moderate riding during the winter causes a lot of wear and tear on the machine. In North America, for example, the typical rider averages over 1,800 km per year on their snowmobile.   This is why snowmobile maintenance is important for both your safety and convenience.   There are many steps you need to take, both pre-season and mid-season, to ensure your snowmobile won't break down in the middle of your riding session. These can include anything from the replacement of components to simple tests.   Keep reading to learn how to avoid problems using our snowmobile maintenance checklist!  
Consult the Owner's Manual
  Before you do anything else, review the owner's manual for any critical information.    It's easy to get carried away and toss the manual aside somewhere and forget about where you put it. Hopefully, you still have the trusty book laying around so you can refer back to it.   Many owner manuals will feature in-depth guides for maintenance. Therefore, make sure you look through the index of your owner's manual for anything related to snowmobile maintenance.  
Fuel and Filter
  Ideally, you should drain all your fluids before you put your snowmobile away for the spring and summer. You can accomplish this by using a siphon.   This means your pre-season snowmobile maintenance will likely begin with refueling.   However, you also want to make sure your change your fuel filter on your snowmobile every 1,600 km. This is especially the case if you have trouble climbing a hill, or if your engine shows signs of struggle at slow speeds.   If you don't change your fuel filter, your gas efficiency will suffer, and so will the performance of your vehicle.  
Spark Plugs
  Without functional spark plugs, you won't get very far with your machine.    Aside from fuel, spark plugs should be one of the first things you check when your engine won't turn on, or when it begins performing sluggishly. They provide the spark your engine needs to start.    After you change the plug, don't tighten it too much, as it can be difficult to remove it when you need to change again. However, you want to make sure to tighten it well enough to keep it secure while you ride.  
Oil and Filter
  If you flushed your engine oil prior to setting the snowmobile aside for the spring and summer, it's time to fill up again.   Also, make sure you check for leaks during the snowmobile maintenance process. If you see a leak, you may need a replacement or reseal to stop it.   Lastly, don't forget to change the oil filter if needed. Of course if you ride a 2-stroke this step isn't neccessary.  
Engine Coolant
  This is one of the most important steps on the checklist for pre-season snowmobile maintenance.   Ideally, you need to service your coolant every year. Otherwise, you can run into some problems.   If you let your coolant sit for too long, it can become extremely acidic. This can cause issues with the aluminum parts in your engine.   Also, much like with gasoline and oil, you want to check for leaks.  
Engine
  Rust can cause you a lot of problems, especially when it comes to safety and performance of your engine.    You will often find rust in different parts of the engine. Make sure you clean as much as you can, and replace parts as necessary.    Also, pay close attention to the drive belt. If you see too much wear on the belt when conducting snowmobile maintenance, replace it.   
Tracks
  Inspecting the tracks on your snowmobile is one of the biggest favors you can do for yourself. The tracks are responsible for making your snowmobile move and stop properly.   You want to replace your tracks if you see any cracks in the rubber, as these only get worse over time. Also look for any missing track lugs or clips.   Normally, it will take a few seasons for your tracks to wear down to the point where they need replacement. However, they can degrade quickly if you fail to keep the out of the sun when storing the vehicle during summer.  
Skis
  You can't ride your snowmobile without skis that are in good condition.   During snowmobile maintenance, you want to check the skis on your vehicle for any signs of misalignment or damage.   Always measure alignment on a flat surface, and replace a damaged ski immediately. Don't take any risks.   Particularly, take a close look at the wear bars. If you notice that it's missing a cutting carbide, replace the bars immediately.   
Brakes and Brake Fluid
  One of the worst feelings any driver can experience is pulling on the brake lever and not getting a response from the vehicle.   In order to avoid a catastrophe like this, you should check your brakes early and often. Look for any signs of damage or wear, as this is an absolutely critical step in snowmobile maintenance.   You should also check to make sure your brake fluid levels are up to par. Make sure that your brake fluid is not a dark brown color, or you may need to flush it and refill.    Additionally, you should aim to change your brake fluid quite often. This will help keep your snowmobile running well and prevent your braking system from corroding.  
Shocks
  If you have no trouble moving your snowmobile's shock absorber up and down, it's time to replace them. For those with gas-powered shocks, you need to get them rebuilt once the nitrogen runs out.   In most cases, you want to change or recharge the shocks every 1,600 km. If you're a regular snowmobile rider, you will surpass this mark within one year.   Keep in mind, however, that shocks affect performance more than anything else. You likely won't put yourself in much danger with worn-out shocks.   With that said, make sure to get this sorted out if you want to avoid discomfort and performance issues.  
Chain
  Over time, heating and cooling cause the chaincase lube to deteriorate in quality.   Therefore, you are going to need to change the chaincase oil before you even think about hitting the snow.   In addition to changing the chaincase oil, you should also alter the chain tension. Having a chain that is too loose will cause problems when attempting to switch gears or reverse on your snowmobile.  
Headlights and Tail Lights
  The good news about this step on the snowmobile maintenance checklist is that it shouldn't take you much time to complete.    If you find that your headlights or tail light don't function, check the bulbs first. If you replace the bulbs and you still have an issue, check the connections and wires.   The last thing you want to do is end up out in the dark without a headlight to help guide you back home.  
Carburetor
  Most small engines will need a carburetor cleaning from time to time. You may even have a carburetor issue if your engine doesn't start.   If your carburetor is the source of your problems, remove it from your vehicle and begin disassembling its parts.   Once you have the carburetor disassembled, use high-pressure air to clean it. Then reassemble it and put it back in your snowmobile.   Keep in mind that it's often unnecessary to remove the inlet needles. Refraining from removing these may save you some time.  
Steering
  One of the last steps to take before you speed off in your snowmobile is to make sure the steering functions properly. Otherwise, you might end up with a headache—or much worse.   In order to do this, ride at a slower speed than you usually do, and test how the machine reacts. If it turns smoothly and responds well to your commands, you're good to go with steering.  
Loose, Damaged, and Missing Parts
  Riders who aren't careful can end up suffering serious injuries due to loose, damaged, or missing parts. These are often difficult to notice.   When conducting snowmobile maintenance, you want to look to see if you can find any broken or loose bolts and nuts in hard-to-see spots. Tighten anything that wiggles around too much, and replace anything that seems broken or missing.   Once you finish with this step, you should be getting ready to start riding!  
Final Thoughts on Snowmobile Maintenance 
  A well-built snowmobile will prove to be a reliable machine for you and your family.   However, as with any complex machinery, snowmobiles do involve some level of maintenance.   The checklist above should provide you with the steps you need to ensure a seamless riding experience in the snow.   Remember, pre-season maintenance is just the beginning. If you want to prioritize your safety, conduct snowmobile maintenance throughout the riding season.   Once you're set to go for a ride, you can let your engine run on its own for about a minute or two. This should give it enough time to warm up properly.   If you're in need of snowmobile parts, feel free to contact us for online parts orders today. Also, if you're looking to buy another snowmobile, don't forget to check out our new or pre-owned inventory!